Being a Tourist in My Home Town of Dallas
I moved to the Dallas area in 1996, and found there are a lot of local "tourist sites". Actually I moved to the suburb of Rockwall, while working in Greenville. I chose that locale, because of the nice area and proximity to Dallas, knowing that the job in Greenville wouldn't last forever. My long time friend and accountant has visited me several times, and we have often been tourists right here in the Dallas area.
Perot Museum of Nature and Science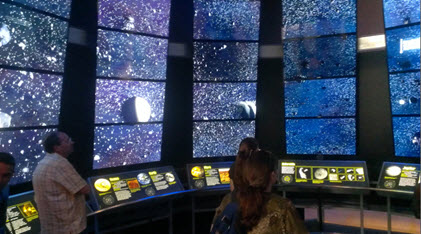 The Perot Museum opened in 2006. One July 4th weekend, three of us went there, and despite the holiday weekend, the crowds were not bad. It is located downtown, at the Victory Park Campus, and has a satellite campus at Fair Park. So far, I've only been to the amazing new building downtown, which is even accessible by the DART light rail. Several exhibits of interest include,
Being Human – how the human body moves, DNA, biology and such
Texas Instruments Engineering and Innovation – robotics, and skyscraper proof buildings
The Rees-Jones Foundation Dynamic Earth – feel a simulated earthquake under your feet and learn about Texas twisters
Tom Hunt Energy – I specifically recall the "Shale Voyager", a simulated ride down into the Texas Barnett Shale formation in search of gas.
Expanding Universe – an impressive wrap-around display featuring dozens of high-def screen displays showing the big bang and formation of the galaxies
Ripley's Believe It or Not Museum in Arlington or Grand Prairie
At first, I felt a little like a kid going to a cheesy museum, but it was worth it. The building itself looks something like a scene from Aladdin. I specifically remember a "art work" that was a landscape made on a piece of toast. The other highlight, I must warn you about is the last exhibit, where they try to get you to hold your tongue a certain way in mirrors; little do you know that they are two-way mirrors, and people that just exited are laughing at you on the other side.
Dallas West End Historic District
While I still haven't been to the book bindery, now "The Sixth Floor Museum", where Lee Harvey Oswald is believed to have fired a shot at President Kennedy, there is a lot to see and do in this area. There are many restaurants to choose from of course, and an indoor touristy mall with unique stores, including an antique/novelties store that kept some of my hard earned dollars. I remember buying a world map, and a couple of issues of Scientific America from the 1890s.
West end covers 67 acres, but you spend all day in a 2 or 3 block area.
The Dallas World Aquarium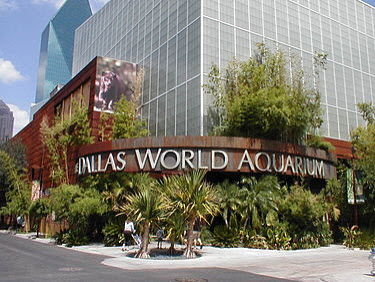 While Fair Park has a good aquarium if you want to see fish, the Dallas World Aquarium is an entire building featuring ecosystems, rain forests, exotic animals, birds, monkeys, manatees, and an albino alligator in addition to fish. Special exhibits include Borneo, Mundo Maya, Orinoco, and South Africa. The price seemed a little high for the amount of time the 2.5 or so hours we spent there, but it was definitely a nice afternoon.
Dallas Museum of Modern Art
This is one of my favorites, I should probably become a member. My favorite exhibit ever was the King Tut travelling exhibit, and another one I vaguely remember was on how silk scarves are screen printed. The permanent exhibits are also worth seeing.
Dallas Arboretum
This one is on my list to go more often; I've only been twice, once in the Spring, and once in the Fall (forget about it on the hot summer days when the temperature is 90 or above). There are over 20 different gardens to enjoy.  One fall day, I went there and recorded about 20 short videos for my business using just my Samsung Galaxy Note 3 SmartPhone, and a monopod.   I positioned myself by a unique background for each shot.
Individual memberships are available for $85.  It's not a bad deal if you enjoy going several times per year.
The arboretum opened in 1984.  It was based around the 21,000 square foot Spanish-style DeGolyer Home completed in 1940 that overlooks White Rock lake.  The majority of the grounds were once part of a 44-acre (18 ha) estate known as Rancho Encinal, built for geophysicist Everette Lee DeGolyer and his wife Nell. Mrs. DeGolyer's was an avid flower gardener. The DeGolyer Home is listed on the National Register of Historic Places.
There are at least 7 places to eat, from very casual sandwiches to more formal. The aboroetum is well know for it's annual 12-Days of Christmas exhibit.  DallasArboretum.org
South Fork Ranch
My friend wanted to see this more than I did. Seeing the inside of house of J.R. Ewing's (Larry Hagman from the TV show "Dallas") has got to be a low point in being a Tourist. There is also a museum that has various pictures of the old cast. I don't know if they've updated it for the recent reboot of the Dallas TV show. However, the ranch now host events, has an assembly hall, and I once attended a two-day business event there that was quite enjoyable.
The ranch covers 300 acres, and features a 63,000 square foot conference and event center (including the "Oil Baron's Ballroom") that was built to accommodate several thousand people for special events and functions. A rodeo arena, which was originally constructed for the filming of "Dallas" rodeos, began to host open competition rodeos as well as private "showdeos."  It can be a great place to host a wedding.  http://SouthFork.com
Lunch or Dinner on Top of the Rotating Reunion Tower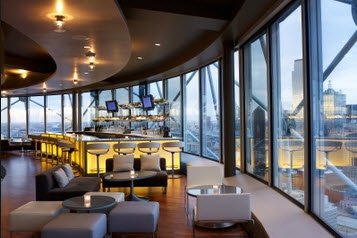 There's nothing like absorbing the Dallas skyline from a restaurant that slowly revolves.  Five Sixty is a Wolfgang Puck inspired award-winning fine dining restaurant.  It offers an superb culinary experience, modern Asian-influenced cuisine while showcasing the best views in downtown Dallas.
If you just want to see the view, you take the elevator up to the GeO-Deck. From there, you can also get a less formal meal at Cloud Nine Cafe, where you can enjoy still enjoy food and drinks with a view!
http://reuniontower.com/the-tower/dining
Weekend Uptown
In the future, I want to get a hotel in uptown, and experience the area first hand. There's not one particular thing I want to see, I just want to get a feel what it's like to live and be there for more than a single dinner. I want to walk through the local neighborhoods, shop, and try the various restaurants.  http://www.uptowndallas.net/
Uptown is a community where residents, office workers and visitors enjoy the neighborhood on foot. Every weekend and even on many weekday evenings, hundreds of people walk the well-lit, tree-lined sidewalks from restaurant to restaurant, from home to the gym, from work and home to shops and public transit via the McKinney Avenue Trolley.
Uptown is the community of choice for young professionals because of this walkable urban character
In summary, you can be a tourist in your own home town, especially if you live in the DFW Metroplex. After 19 years in Dallas, I started doing Dallas SEO Consulting and Marketing. I can now rank websites for any keyword within 6 to 8 months. It is a slow but safe and proven process, appropriate for local businesses, stores, restaurants, and medical and financial professionals. And for example, why do you think I wrote the article about being a tourist in Dallas? It actually helps my Irving SEO Agency to get ranked for terms related to Dallas, and not just Irving/Las Colinas.
Tourism blog provided by Dallas SEO Expert, Neal Walters.