I recently signed-up with BitCoin Ben's crypto consulting program. There is a rise in interest from cryptocurrency, and while people can learn a lot from YouTube and other sources, sometimes they want to get on the phone (or Zoom) with a someone knowledgeable in this new mushrooming field.
There are many new consultants joining that program, so I have put together the following starter package for them. Normally, I don't do "set price" packages, but in this case, I think most consultants needs the basics.
Search engine optimization (SEO) does not happen overnight. Google sees it as suspicious if a site gets too popular too fast.
The first goal is to get your listed on Google Maps (not guaranteed, but highly probable), and to start getting about at about 1 backlink per week to your site. Some of those backlinks should be from articles about cryptocurrency or from sites about cryptocurrency. As needed, I will even build out those sites in order to get content-related backlinks.
I have put together the following 3 packages. You can give me the keywords you want to rank for. For now, it will be easy, because you aren't going to have much competition. I will check your city or local area for competition and advise if your keywords will be feasible.
You will work with me to pick 3 keyword phrases to start with.
Your first keywords might be something like "Austin Crypto Consultant", and your second two might be "Austin BitCoin Consultant", and your third might be "Austin Cryptocurrency Support". You will want your city, county, or metroplex in each keyword phrase. We focus on local rankings, not nation wide ranking.

If you have competition in your local area, I will help you to come up with some that still has good search volume that might be easier to rank for.

We will also use links to re-enforce your brand name. For example, one guy calls company "Bitcoin Bandicoot".
With each of the programs below, we will also make "onsite" recommendations to improve your search engine results. You can make these yourself, or work with your webmaster to implement them.
Basic Program – $999 for 5 months – This is the basic needed to get your site known on Google, probably Google maps, for a few keyword phrases and your brand name. Payable in advance, or 5 months at $225.

Intermediate Program – $1999 for 8 months. Includes SEO on 1 of your social media sites, example one of the following: Facebook Page, LinkedIn, and Instagram. Payable in advance, or 5 months at $299.
Advanced Program – $2999 for 8 months – This will include one press release about every 2 months. Press releases are a great way to shoot your website to the top of the search engine rankings. This package includes SEO on 3 of your social media sites: example, Facebook Page, LinkedIn, and Instagram. Payable in advance, or 8 months at $399.
Reporting Results: You will get a monthly status of your results using state of the art reporting using various scoring algorithms. At the end of your time period, we will evaluate your progress, and work together to see if you need any continued service or not (a lot will depend on any competition that develops during that time period).
Partial Example Report:
We want to get your DR (Domain Rating) up to the 20s or 30s within your selected time period.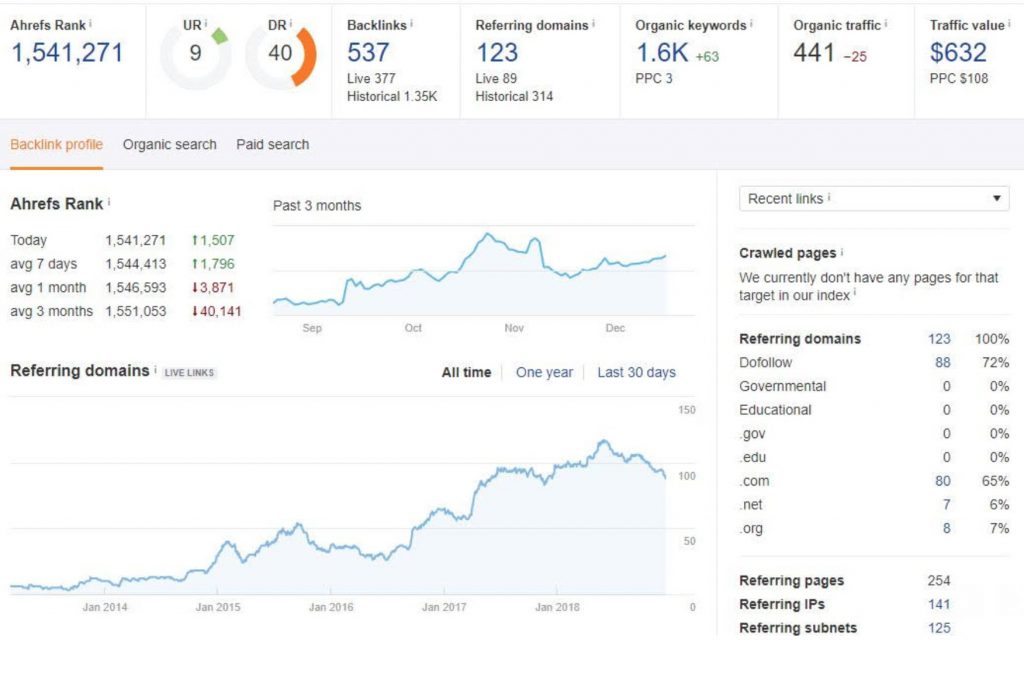 To get started, contact Neal Walters, at 21-455-8060.