Millions of people are staying on top of every little move Google is making in their company structuring, technical updates, and algorithm. When Google sends an official quote to the blogrolls, marketers are memorizing every line. The reasons are obvious. They want to predict the actions of this tech giant in an effort to protect their own company and brand. Others want to avoid consequential penalties like the mass-sweep penalties that plagued mediocre marketers in 2011, 2012, and 2013. Google has been quiet in 2014. They seem to be continuing the modifications applied by their animal-themed algorithmic updates in the last decade. But, is Google readying a sweeping change for Google penalty and mobile accessibility? Any smart SEO Consultant has learned: when Google warns of something, all eyes and ears should be buzzing.
Difference Between Warnings and Penalties
Google caused overwhelming distress in the SEO industry when the company launched their Google Panda update a handful of years ago. It reshaped the entire landscape. Marketers were not caught as off-guard when Google second and third massive updates rolled around a few years after. The point is that Google penalized companies without necessarily warning them (though backlink spamming should just be felt as a bad strategy). Google has changed their efforts a bit. Now it seems that they want to warn marketers before they unroll a huge update. This was partly the case in 2013 when Google began providing webmaster warnings for backlink cleaning in 2013. This was a few months prior to 2013's Hummingbird update that revamped backlink allocation.
To Google, a warning is a suggestion of what to do. Google obviously wants to inform the industry relying on their platform. A penalty is applied when webmasters clearly ignored the warnings. It is true that Google has not always offered considerate warnings in the past. Fortunately or, unfortunately, marketers know better now.
Google's Subtle Warnings About Mobile
Google is secretive to a frustrating level. These frustrations, though hard to manage, are a necessary component of web marketing. Google is being secretive because they know that it is the best thing for the industry. If every company knew the entire algorithmic balance, where the company is heading, and other details, the competition would be monopolized. Whoever has the deepest pocket and the most time will dominate the web marketing world, and this invalidates everything Google has been working towards.
Google is Pandora 's Box, and keeping it closed is the best strategy. That does not particularly stop marketers from wanting a small peak without letting the whole thing go unhinged. Fortunately, the tech titan has been unleashing a few not-to-subtle warnings in their webmaster platform. Marketers are not being caught off guard. The warnings are preemptive, and smart marketers can act now to work around them- or through them. Furthermore, the warnings are suggestive.
Google is unleashing tens of thousands of messages to Google users through their webmasters platform. The warnings revolve around how mobile friendly a website is. There are a few highlights from the messages, which are detailed below.
Google is testing individual pages for mobile responsiveness and mobile friendliness. One example suggested a website has roughly 3,700 pages with 100% being non-mobile friendly (one can assume the website is not doing well through mobile).
Google is looking at these pages as errors, as opposed to them just being non-mobile friendly
Google is saying these pages will not be ranked appropriately for smartphone users
Google has suggested three fixes to this problem, and they all revolve around using Google services or paying them
The messages are rather peculiar. Google is openly stating that mobile is important. They are going out of their way to offer comprehensive suggestions and warnings to users. Could this be suggestive of a penalty? Most see that it already is.
Many marketers should be reading between the lines in Google's webmaster tools message. Companies are not just being recommended for a smartphone friendly design. The last line, as seemingly passive-aggressive as it is, is strongly suggesting that what Google finds appropriate is a design that is mobile friendly. Google also states that these are errors. Errors are broken. They have to be fixed. A website that is not mobile responsive may have been seen as inferior design in the past. According to Google, it is not inferior design- it is broken design.
To make matters easy, Google has developed a plan of action for marketers. They delivered a review of the website's content so users can test for themselves the page responsiveness. Google even went as far as to avoid between three to six fixes for this issue. They offered a guide for learning about mobile design, as well as a systematic fix to repair minor issues. Google could not be making things more obvious if they pinned it to every Google home page. The mobile design must be a part of the strategy.
What Does This Mean for Google in 2016?
Google may be prepping for a major algorithmic update in the next year. Google reworked backlinks. The company reworked keyword design. Now it seems they have their eyes pressed on mobile design. Marketers were caught off guard in the past. Hopefully, developers can learn from this warning, and take it as an encouraging sign of marketing industry responsibility. Google is giving everyone a little leg up, and marketers that do not respond will see the penalties come sweeping again.
Google actually provides an easy to use tool to analyze your website (or any other website) for mobile-friendliness.
Here is a result of a website that failed: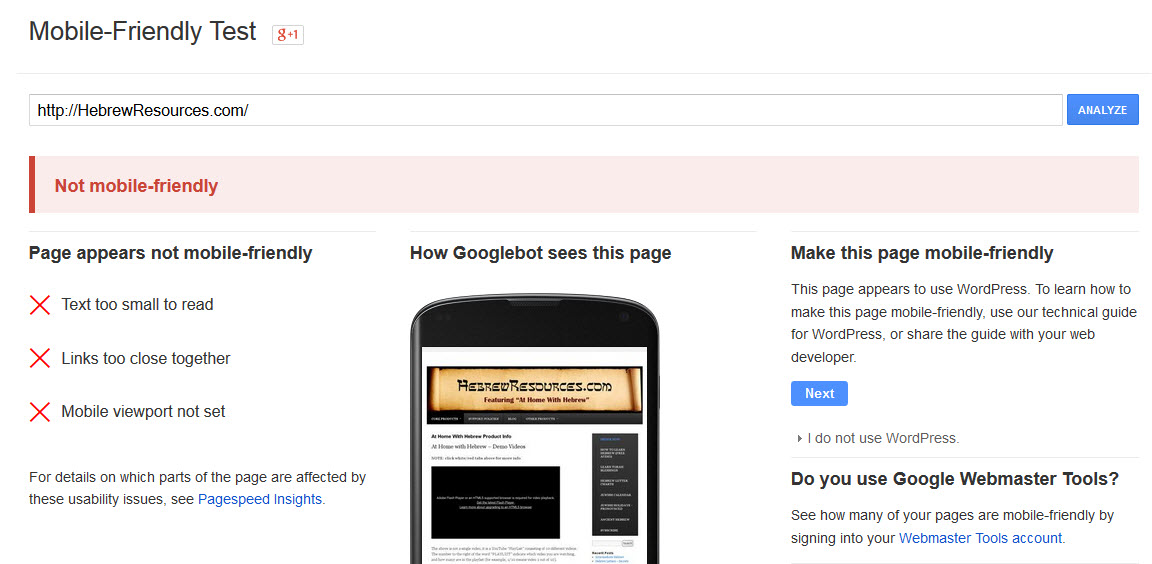 In addition to doing SEO, we can fix your site to be mobile -friendly and pass the above test.  Start with our "Discovery Form".